Our Magazine for members "Aktueller Voltigierzirkel"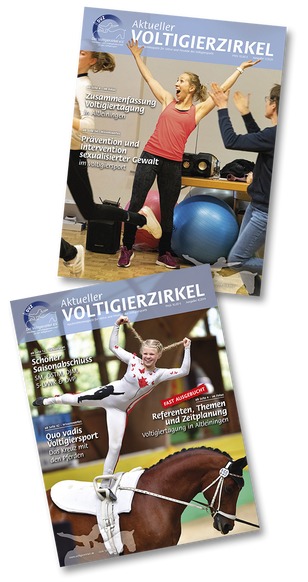 4 times a year you will receive the members' magazine "Aktueller Voltigierzirkel" free of charge – the only German-language magazine for the sport of vaulting.
This way you are always informed about current events and innovations in vaulting!
You can also write your own articles if you wish – in English or German
Discounts at cooperation partners
You receive discounts at our cooperation companies
Videos & podcast episodes in the members' area
You have access to the members' area on our website and can watch Marc Schuirmann's videos and listen to the "Volticast" earlier than everyone else.
Social Media
Do you have a question about vaulting? Then discuss it with us at: https://www.facebook.com/voltigierzirkel/ or
https://www.instagram.com/der_voltigierzirkel/ (opens in new tab).
---
Certificates for your event
You have the possibility to order certificates at cost price. The certificates offer enough space to enter name, place, ranking and the like. Just send us a message via the contact form: click here (opens in a new window).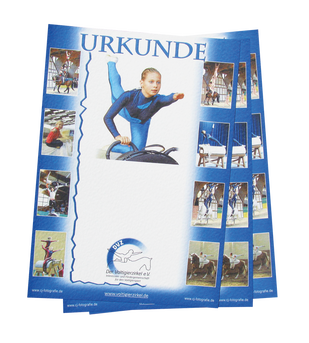 ---
Promotional prizes
Promotional prize for amateur sports – exclusively for our members
You can take part in the promotional prize for amateuer sports if the coach or an active member is a member of Der Voltigierzirkel. The prize for the winner: a training course with a top vaulter or coach!
Promotional prize "Best Newcomer German Championships for Juniors"
Every year, the best-placed individual vaulters and the best-placed junior group are awarded at the German Championships for Juniors.
Deutscher Voltigierpokal (German Vaulting Cup)
The three best Junior Pas-de-deux receive financial support for a training course.
Support German Championships for Seniors
At the German Championships, Pas-de-deux is supported with cash and non-cash prizes.
---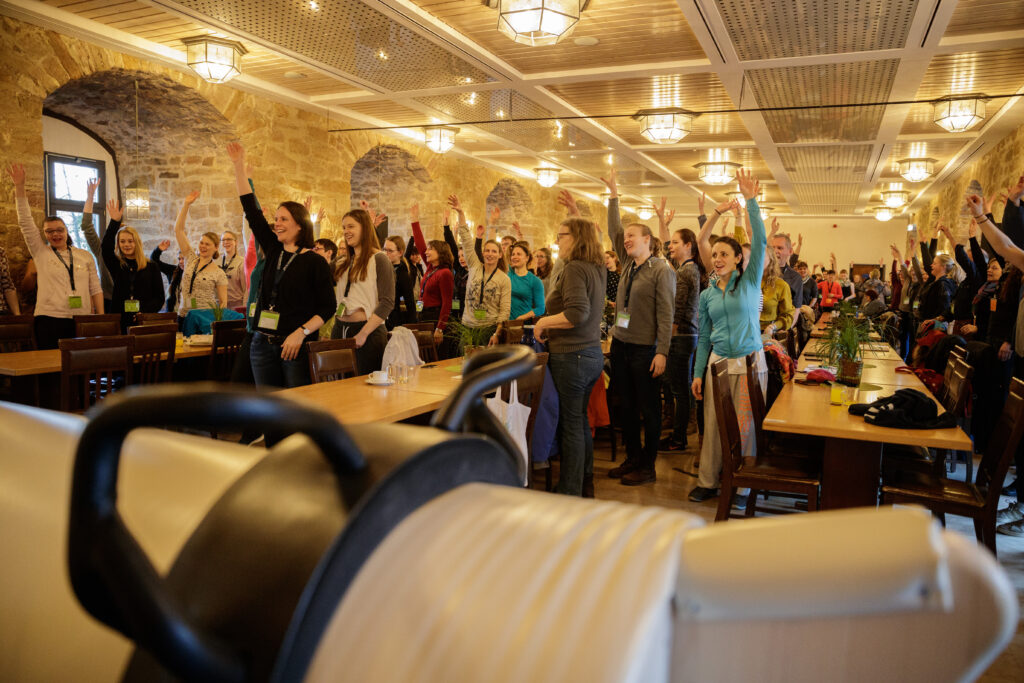 Vaulting Conference in Altleiningen (Altleiningen is a town about 40 km away from Mannheim, Germany)
Top-class speakers, multi-layered topics and a great atmosphere – that's what the Vaulting Conference offers. As a member you receive a discount on the participation fee.
The conference will be held in German, but our conference assistants will support you with the translation into English during the workshops and seminars.
---
Bring your ideas to life!
Through the community in Der Voltigierzirkel, you can support the vaulting sport through your own commitment …
… and thus actively participate in the further development of the sport!
---
Individual, family & club memberships
Each individual member enjoys all the benefits mentioned.
In the case of family memberships, each family member enjoys all the benefits for Voltigierzirkel members.
In the case of a club membership, 7 people can enjoy the benefits.
---
Membership fees
According to the resolution of the General Assembly of 29.09.2017:
1. Individual members:
Members under 27 years Euros 29,-/year
Members from 27 years Euros 46,-/year
Families with 1 child (under 18 years) Euros 82,-/year
Families with 2 or more children Euros 92,-/year
2. Club membership:
Euros 130,-/year
For families there is the possibility of family membership. If a family has one child (under 18), they pay €82 per year and receive all the benefits that members receive three times, including the magazine Aktueller Voltigierzirkel three times.
If a family has two or more children under 18, they pay €92 per year. In return, they receive all benefits as often as there are family members. So a family consisting of father, mother and three children receives all benefits five times, i.e. also five times the magazine Aktueller Voltigierzirkel.
Every club that registers as a member for Der Voltigierzirkel enjoys the following benefits:
each issue of Aktueller Voltigierzirkel 7x free of charge
7 people are granted access to the members' area of www.voltigierzirkel.de
7 persons can register at the conference at more favourable conditions and order at lower prices for cooperation offers
The conditions of membership in Der Voltigierzirkel can be found in our statutes (in German): Just click here. If you need more information, please contact us.
---
Gift of a membership
It is possible to give a gift membership to a third person for a certain period of time (e.g. 1 year). If you would like to give a membership as a gift, simply fill out the registration form (see below) and add at the bottom that you would like to give the membership as a gift. Our membership administration will arrange everything else with you.
It's worth being a member of Der Voltigierzirkel!
Just fill in our registration form.